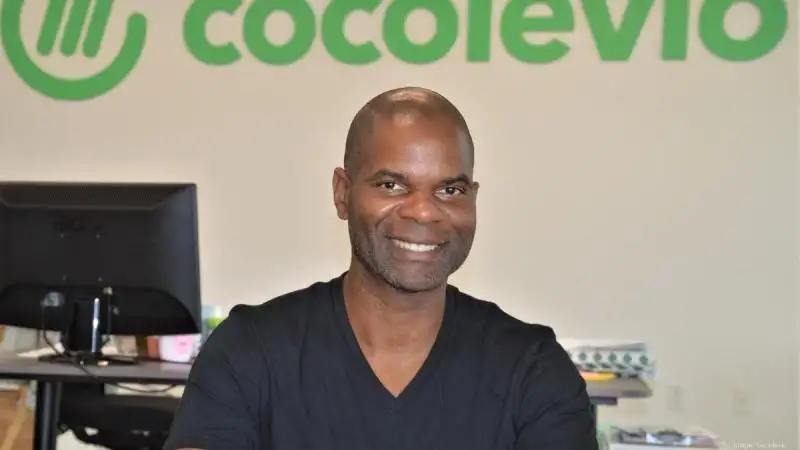 Bootstrapped Startup Cocolevio Grew Headcount 10x in Pandemic
Nnamdi Orakwue is the founder and CEO of Cocolevio, an Austin startup that competes with the likes of Accenture.
Besides some small debt-financing rounds, Cocolevio LLC has been bootstrapped since the day CEO Nnamdi Orakwue founded the software and technology services company in November 2015.
The startup — which helps develop and implement its customers' tech needs, particularly in the areas of cloud, artificial intelligence, big data, and the internet of things — had grown steadily since its launch.
Then the Covid-19 pandemic hit, companies were beset with a wide range of tech challenges and Cocolevio's expansion exploded.
While Orakwue declined to share revenue figures or say whether the company is profitable, the CEO said Cocolevio posted year-over-year revenue growth of 500% from March 2020 to March 2021.
Orakwue described the business as "screaming out of the nadir of the pandemic."
The company's headcount and commercial real estate footprint reflect this growth.
Today, Cocolevio employs roughly 300, up from about 25 in March 2020. The company purchased roughly 1,500 square feet of office space at 1800 E. Fourth St. in East Austin, and Orakwue is on the hunt for another 2,000 square feet.
The CEO hopes to find the additional space in the same general neighborhood but understands he needs to be flexible concerning today's tight commercial real estate market. Orakwue is working with Austin-based Skout Real Estate.
Cocolevio recently secured a 1,000-square-foot office in Mississippi, and also opened an office in India, said Orakwue, who is the former chief of staff for Michael Dell, the founder, chairman, and CEO of Round Rock-headquartered Dell Technologies Inc. (NYSE: DELL).
Orakwue spent about four and a half years at Dell, where he ultimately attained a vice president position in the company's software group. He also ran as a Democrat for the Texas House District 46 seat in 2018.
Cocolevio largely is a remote-work company, with about 25 employees who are based in Austin, and roughly 120 throughout the state of Texas. Orakwue envisions eventually having offices between 1,000 and 2,000 square feet in Dallas, Houston, and New York City.
Client demand will determine the number of new hires Orakwue makes during the coming months, but based on where that demand currently stands, the CEO sees adding between 100 to 150 staff members in the next year.
Areas of hiring focus will include sales, project engineers, dev-ops engineers, and cloud engineers.
He also said the business "generally is building and adding to our leadership team. We're looking for great leaders and great talent," while acknowledging that now is an intensely competitive time to find the best and brightest. Austin Business Journal in June reported on the war being waged among tech companies for top candidates.
"It doesn't matter where you're from, if you've got the skills and know what you're doing, we'll bring you on board," Orakwue said.
But the CEO also understands the importance of continuing to establish East Austin as the company's headquarters. It's necessary to continue to grow Cocolevio's HQ for many reasons, he said.
Among those: determining and nurturing the company's culture, providing the opportunity for employees and leadership-team members to collaborate in person, identifying the super performers who deserve a promotion, and furthering the company's investment in the neighborhood as a center where Black and other under-represented founders may flourish.
Orakwue is not opposed to raising capital for his startup. But he has experienced the plight of fellow Black founders throughout the country, whose ability to attract investment from venture capitalists has paled in comparison to their white counterparts.
Crunchbase reported that just 2.4% of total venture capital investment went to companies launched by Black and Latinx founders from 2015 through Aug. 31, 2020.
Now that Cocolevio has proven it can scale without VC funding, Orakwue is reaping the benefits of retaining the equity he has in the company. Moreover, with interest rates so low, the CEO sees debt financing as the most effective way of funding continued growth.
The company is poised to announce a "significant credit facility" agreement "in the next few weeks," Orakwue said.
Cocolevio boasts about 20 customers, who "overwhelmingly" consist of Fortune 500 companies, including "a few local entities," he said.
Due to the meteoric growth, the business has enjoyed since March 2020, its competitors now include behemoths such as Dublin-headquartered Accenture plc (NYSE: ACN), Virginia-based DXC Technology Co. (NYSE: DXC), and New York-headquartered International Business Machines Corp. (NYSE: IBM).
What differentiates Cocolevio from such global businesses is the fact that Orakwue's startup is definitively not a giant. Instead, it's a boutique company that may offer personalized service from highly knowledgeable people, including the CEO himself, Orakwue said.
"We offer that niche experience that you can't get from bigger providers," he said. "Sometimes, the big providers offer customers their C team. By choosing us, they get our A team. I'm the CEO, and I'll show up. We don't have the manpower to give them a C team."
A more recent trend that has helped Cocolevio is the fact that it is led by a Black founder and CEO, Orakwue said.
"That's something that has taken off: Customers are now attracted to working with diverse firms," he said. "People are much more interested in supplier diversity."
No pressure exists to work toward an exit. Orakwue is taking advantage of that by focusing 100% of his energy on making Cocolevio as big, successful, and diverse of a tech company as it can be, he said. One example of how it combines business prerogatives with social causes: the company is developing machine-learning code and training data absent the inherent bias that can be the product of companies that lack staff diversity, the CEO said.
Mike Cronin
Staff Writer
Austin Business Journal