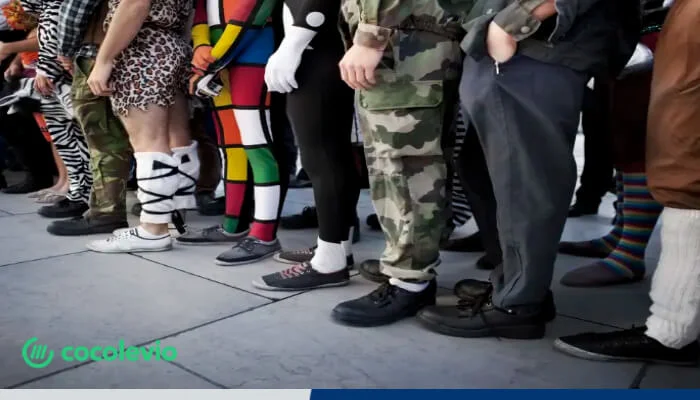 What Is A Supplier Diversity Certification And Why Your Business Needs It?
Before we explore the scope of growth possibilities that a Supplier Diversity certification opens up for businesses, it is important to understand what 'Supplier Diversity' means. The term refers to a supply chain that engages U.S. companies, where over 51% of ownership (and management) lies in the hands of individuals belonging to underrepresented groups such as:
Racial or ethnic minority individuals
Service-disabled veterans
People with disabilities
LGBTQ individuals
Women
Today, being noticed and hired by Fortune 500 companies has become a tangible dream for many such underserved suppliers & service providers. And Supplier Diversity certifications have emerged as powerful aids toward this change.
The accreditation process is relatively straightforward.
A Supplier Diversity certification is granted after a third-party certification agency like Cocolevio's 58Joralemon thoroughly screens the application documents. It validates that eligibility parameters have been met by the business to qualify as diverse. Businesses must submit incontestable documentation support for the below information to obtain this certification:
Owned by U.S. citizens.
At least 51% are minority-owned, operated, and controlled.
Business should be located in the United States or a trusted territory.
It is run & managed by minority ownership member(s) daily.
This certification process begins with the payment of a nominal fee. Then a third-party agency screens the application before following up with in-person or virtual interviews and on-site visits to confirm the diversity claim (if required). The entire process will take 60 to 90 days to complete. Once certified, suppliers can connect with the diversity program at companies where they're interested in doing business.
Top Reasons to Get Certified
It opens up the market and growth opportunities: For small or mid-sized business owners looking to grow their reach, sales, and impact, getting diversity certified could be the best way forward. Most private companies keep a huge percentage of spending for diverse-owned suppliers, and uncertified businesses have lower chances of being considered for these opportunities.
Access to government contracts
Any company working on landing government contracts also has to adhere to strict diversity requirements, especially the ones interested in DoD's Workforce Diversity programs like:
Small Disadvantaged Business
Women-Owned Small Business
Service-Disabled Veteran
Certified 8(a) Firm
Indian Incentive Program
So, underprivileged businesses can now approach qualified agencies like 58Joralemon to get their diversity certification and prove their qualification as diverse-owned suppliers. They can easily apply for big-ticket contracts with the federal government.
Access to supplier diversity programs
Large companies are now making conscious efforts to work with diverse-owned suppliers. Some have created special Supplier Diversity programs to cultivate relationships with diverse-owned businesses. This helps business owners get information on their procurement approaches and other relevant details. By granting access to resources and support, such programs lend huge advantages to underserved suppliers in a competitive market.
But first, suppliers must get independently certified as diverse-owned-and-managed businesses to participate in Supplier Diversity programs. This ensures that growth opportunities are available to deserving SDBs.
Big organizations and Diversity Certification agencies are investing in programs to support their supplier members. They are creating an information infrastructure to empower diverse suppliers. They offer continuous access to training, educational seminars, and networking events – everything disadvantaged businesses need to boost their reach and connections.
Supplier diversity certifications can help businesses get better financing options (and rates) with banks and venture capital firms. They also open up capital aid opportunities from government sources (including tax revenue benefits), non-profits, and other local programs. SDBs can even approach Diversity Networks with dedicated capital pools for start-up funding or expansion financing. 
As registered members of certification networks, diverse-owned businesses can make faster inroads into new markets. They can also leverage referral programs and direct relationships for valuable introductions.
Also Read: Here is Why You Should Certify Diverse-Owned Business
Business promotions and marketing
By including Supplier Diversity Certification in promotional materials, SDBs can easily connect with customers/clients looking to support brands/solutions that are minority-owned, women-owned, or veteran-owned. Highlighting the certification on business websites is another great way to stand out, build goodwill, and increase RFQs.
Also Read: 7 Evergreen Ways for Small Businesses to Generate Leads
Is your business qualifying for multiple diversity criteria? Which one should you choose?
If you think your business fits into more than one diversity group and are confused about which route to take, you should begin by researching what qualifies as 'diverse.' The Supplier Diversity certification process is quite rigorous, with stringent requirements. So, there is a chance that your business might not be technically eligible for accreditation.
If your business comes under multiple diverse classifications, you should go with the best fit in terms of:
Your customer demographics (e.g., Hispanic-owned certified products might sell better in Hispanic communities).
The scale of commitment from potential companies towards hiring specific diverse suppliers.
Scope of access to diversity networks.
"Diverse companies tend to hire in the local communities where they operate. Their success creates wealth in communities and helps support the overall economy, which is a good thing for everyone."
– Jill Davis, Vice President and Marketing Manager, Global Supplier Diversity at JPMorgan Chase
Growing a diverse business establishes social equity and inclusiveness in the business ecosystem. Over the last decade, the focus on championing supplier diversity has empowered local communities and fueled exponential growth in the U.S. economy.
If you are running a minority-owned, veteran-owned, or woman-owned business and want diversity certification, you can sign up with us to begin your certification journey.